COVID Vaccine Information - Updated 1.22.21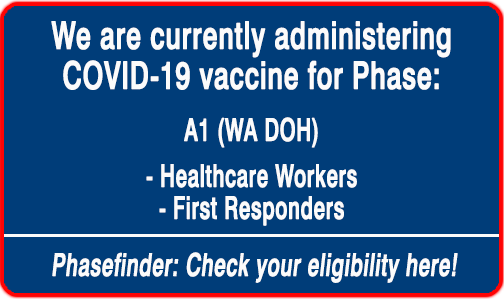 Want to get on Cascade Medical's COVID Immunization Wait List? Here's How:
For individuals with internet service: 
Click on this link to access our Cascade Medical COVID Vaccine Waitlist 

You will receive an autoreply with links to:

Chart describing who falls within each tier
WA Phasefinder to self-confirm you are in the tier authorized for immunization
Link to fill out our Cascade Medical Vaccine Waiting List form

Once you complete this form, you will be contacted by our service representatives when there is an opening for an appointment.

NOTE: due to vaccine supply, it may be a matter of weeks before you are contacted for an appointment time. Patience is advised and appreciated.
For individuals without internet service:
Call our COVID immunization line at 548-2517 and leave your name, number, and whether you are authorized to receive an immunization. Our service representatives will contact you when there is an opening for an appointment. NOTE: using the phone number does NOT ensure a faster response by our service representatives. Using our email option is highly encouraged.
Washington State Expands Vaccinations to 1B Tier
Currently, the state of Washington is vaccinating those in the 1A and 1B tiers, including those 65 and older and those who are 50 and over living in multi-generational households. Not sure where you fit in? Click our Phasefinder link in the blue box just to your right to see if you're eligible. 
Starting the week of January 25, the State of Washington, in partnership with the Washington State National Guard, is standing up a mass vaccination site at the Town Toyota Center in Wenatchee. Please be patient as we work to get you more information regarding how to receive the vaccine at this site.
What we know:
Washington State Department of Health recently released a vaccine availability timeline. Click here to review. 
We are currently in Phase 1A. This phase is for healthcare workers at higher risk of infection and residents of long-term care facilities.
We believe Phase B1 will begin in mid-to-late-January but are waiting for final information from the Department of Health.
Phase B has four tiers. Tier B1 includes all people 70 years and older and people 50 years and older who live in multigenerational households.
Two COVID-19 vaccines have received FDA Emergency Use Authorization and approval from the Western States Scientific Review Group. One vaccine was developed by Pfizer-BioNTech and the other by Moderna.
Both the Moderna and Pfizer vaccine are equally safe and effective.
There are many benefits of getting vaccinated for COVID-19 and doing so will help end the pandemic.
We still need to wear masks, practice physical distancing and wash our hands to prevent the spread of the coronavirus.
Click here to visit the DOH Website for FAQ's and more information.
KEEP UP THE GOOD WORK WHILE YOU WAIT! It will take a while for everyone to get the COVID-19 vaccine, so keep wearing your masks, washing your hands often, and physically distancing. It is our privilege to care for you and we are excited about this vaccine and the hope it brings to our community. 
 

VACCINE FAQs
What's happening right now with the vaccine?
Cascade Medical is working with federal and state partners to continue rollout for our vaccination plan, in alignment with parameters outlined by the Department of Health. On December 18, Moderna Inc.'s coronavirus vaccine became the second to receive emergency use authorization (EUA) from the U.S. Food and Drug Administration, and continue to receive the Moderna vaccine on a regular schedule. Given the current numbers of vaccine we will have at our disposal, we plan to continue to immunize our medical personnel and those in long-term facilities currently in the 1A tier. 
When can I get the vaccine?
We know many of you are anxious to receive the vaccine - we're excited to get you immunized when it is time to do so! Right now, our focus is on vaccinating our most high-risk workers and first responders, and then our most vulnerable residing in long-term facilities. When it is time to start expanding our vaccine outreach into the greater community, we will let you know. Right now, we appreciate your patience as we ensure the COVID-19 vaccine is shared with those most in its path, and those most in danger if infected.
TESTING INFORMATION
NOTE: In order to preserve resources, Cascade Medical tests for COVID-19 will be given ONLY for high-risk exposures or symptomatic patients.
Cascade Medical is working closely with the Chelan-Douglas Health District and state Department of Health in response to the threat of 2019 Novel Coronavirus (COVID-19).
Our top priorities are:
To prevent further spread of the disease
Ensure a safe environment for patients and staff at Cascade Medical
While this is a new virus, our response is well-practiced. Our staff train year-round to respond to infectious diseases safely, with protocols in place to utilize specialized equipment, protective gear and spaces designed for infection control. We are staying current on best-practice guidelines from the CDC and our local health district, with daily briefings from state and federal partners.
We activated our Hospital Incident Command System for better coordination and communication, with our staff, partner agencies and our community. Here's a list of safety measures we are taking to protect everyone's health and maintain a safe environment for care.
We ask our community to join this effort by staying informed, and protecting yourselves and loved ones with preventative measures.
Important resources:
Patient materials: 
How can I protect myself and my family?
-- Wash your hands frequently, or use hand sanitizer with at least 60 percent alcohol.
-- Avoid touching your face.
-- Cover your cough and sneezes.
-- Stay away from people who are sick
-- Disinfect frequently touched objects and surfaces, including cell phones, keyboards and door knobs
-- Stay informed with reputable information sources, such as Chelan-Douglas Health District, Washington State Department of Health and Centers for Disease Control.
What is Cascade Medical doing to ensure that patients and staff are safe?
For the safety of our patients and staff, Cascade Medical will screen everyone upon arrival according to CDC guidelines. Please allow extra time before your appointments. We will welcome you at the Main Admitting entrance on Commercial Street. A staff member will ask how you're feeling, take your temperature and give you a medical-grade mask to wear while you're here.
Please call first if you have respiratory symptoms. If you or someone you know intends to visit Cascade Medical with a fever, cough or shortness of breath, please call (509) 548-5815 and we will arrange to treat you in a way that reduces the likelihood of transmission.
After 5 p.m.: Please enter through the Emergency Department entrance for screening. Again, please call first if you have any respiratory symptoms.
I have a scheduled appointment at Cascade Medical. Is it safe to keep that appointment?
Most healthcare services are available in person. We also offer telehealth appointments, so you can visit with your provider and care team with your phone, tablet or computer. If you are not sure, call your care team and they will help you determine which option is best for you.
If I have a loved one who is currently an inpatient at Cascade Medical, may I visit them?
For the safety of our patients in Acute Care and Swing Bed, we request that all visitors stay home until further notice.
What is the status of COVID-19 at Cascade Medical?
Cascade Medical has sent over 200 samples for testing. Four were positive -- two in late March and two in May. The remaining results are pending or negative. To protect the privacy of our patients, we will not disclose any other information.
I think I may have symptoms consistent with COVID-19. What do I do?
Refer to our patient materials above for information on how to self-isolate and prevent the spread of disease when you don't feel well.
If you need medical care, call before you arrive in person. Whenever possible, we prefer to start the screening process over the phone. If necessary, we will arrange to treat you in a way that reduces the disease's transmission.
Should I get tested for COVID-19?
Cascade Medical will test anyone with symptoms associated with COVID-19, including: shortness of breath, fever, coughing, chills, shaking with chills, muscle pain, headache, sore throat or new loss of taste or smell. If you do have symptoms of concern, please call BEFORE you arrive at Cascade Medical.
How much does COVID-19 testing cost?
The state Insurance Commissioner ordered most insurers to cover the cost of COVID-19 testing. Please be advised the state doesn't regulate all insurance plans, including Medicare and Veterans Affairs, so please check with your insurer.
The cost of the test is $135. If a triage nurse orders the test, it's billed as an outpatient lab ($135). You will only incur Emergency Department charges if you need immediate medical treatment.
If you don't have insurance, we offer a community financial assistance program and payment plans. We can also help you enroll for health insurance through Washington HealthPlanFinder.
Read more from the Insurance Commissioner's office: https://www.insurance.wa.gov/health-insurance-and-coronavirus-covid-19-…
I don't have insurance. What are my options?
-- Cascade Medical offers a community financial assistance program, as well as payment plan options. Read more: https://cascademedical.org/financial-assistance
-- If you need help finding a health insurance plan that fits your situation, call Cascade Medical at (509) 548-5815 and we will connect you with one of our bilingual insurance navigators. We can also help you navigate Washington Healthplanfinder, which offers enrollment for life-changing events, including change of employment.
Is Upper Valley Mend offering Free Clinic?
Upper Valley Free Clinic's Monday evening clinic is cancelled until further notice.