As part of a plan to create more patient parking, Cascade Medical broke ground on a series of parking improvements this month, starting with the paving of the gravel lot on Commercial Street. The project is behind schedule due to recent weather events, but it is expected to be finished by July 23rd.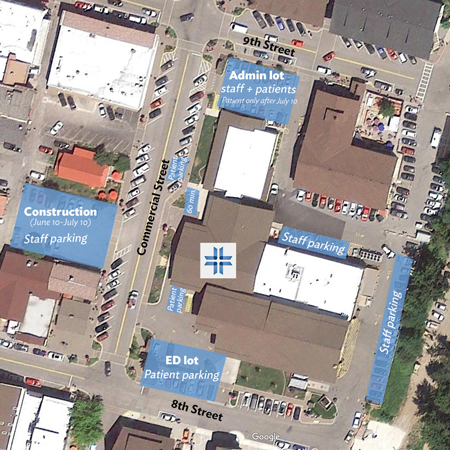 In the meantime, patients have four options for parking during construction:
The parking lot near the emergency department entrance
Dedicated street parking along 8th Street, across from Posthotel & Spa
One 1-hour spot near the main entrance, and two patient-only spots on Commercial Street
The administration lot, on the corner of 9th and Commercial streets
Public street parking is also available. Please allow extra time to find a parking spot and check in for your appointment.
New lighting, landscaping and stormwater drainage will be installed at the Commercial Street lot. The existing sidewalk will be demolished and reconstructed, between the Gingerbread Factory and Louie's Café. During construction, crews will install wood ramps at the curb and paint a lane for pedestrians to safely walk around the construction zone.
After construction, the administration lot on 9th Street will be designated as patient-only parking for better safety and convenience. The Commercial Street lot will become a staff parking lot.
"The net effect is a dozen more parking spots for patients," CEO Diane Blake said. "We recognize that parking has been an ongoing issue, and we're doing our part to help resolve it."
These changes were made possible in part by a partnership with the City of Leavenworth. Cascade Medical is leasing 25 parking spots for staff in the city-owned lot on the corner of 10th and Front streets. Several staff members have volunteered to park remotely and walk the distance to allow patients better access.
"This project is an important step as we continue to build a long-term strategy around parking and patient access to health care," Blake said.